ABOUT MARK ANTHONY RAVENHILL DECORATING
Mark Anthony Ravenhill Decorating was established in January 2016 by you've got it, Mark Anthony Ravenhill!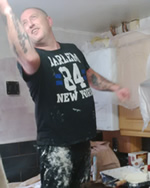 Originally, the businsess started out as Leeming & Ravenhill Decorating in January 2015 set up by Shaun Leeming and Mark Ravenhill. Shaun attended college at Sheaf Training in Sheffield studying for a Level 1 and then a Level 2 Diploma in Painting and Decorating to compliment his other trade as a skilled tiler. He went on to set up his own decorating business in 2010 called SRL Decor, taking on residential decorating projects throughout Sheffield, and quickly gaining a good reputation for decorating peoples homes and hanging wallpaper in all sorts of difficult situations.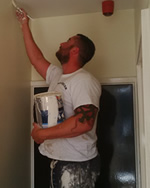 Mark also attended college at Sheaf Training studying for a Level 2 Diploma in Painting and Decorating over a 2 year period followed by a further years course at Construction Design Centre in Sheffield, studying for an NVQ Level 2 in Commercial Painting and Decorating. He too set up his own business in 2010 going by the name of Raven Decor, taking on many commercial projects including the painting of the railings and gates at the Ladybower Reservoir in the Peak District, the renovation of the Victoria Hall main office area in Nottingham and an exterior project on the Hadfield Wing of the Northern General Hospital in Sheffield.
Shaun and Mark both met during their time at Sheaf Training and became friends, often referring work to one another over the years since they set up and helping each other out on busy projects. It was during a leisurely drink over Christmas 2014 that they decided it would be a fantastic idea to join forces and setup a brand new Painting and Decorating business together. Bringing in more decorating projects and taking on other skilled and qualified decorators to assist with the work. Hence, Leeming and Ravenhill Decorating was formed!
This partnership lasted for 1 year and then in January 2016, Shaun decided to retire from decorating and take up another project that he originally started out in 20 years ago! So, the business was then rebranded as Mark Anthony Ravenhill Decorating (or MAR Decor for short), with Mark Ravenhill bringing in all the projects and working on them with his existing team.
Through the various work experienced over the many years, the businesss is committed to providing its customers with the best possible decorating job, ensuring that a high quality and professional finish is maintained at all times. All jobs, regardless of how big or small, are taken on with the upmost of care with great pride taken in all their work. A quality you rarely see instilled in many people these days.
MAR Decor pride themselves on customer satisfaction and are the decorating business of choice for customers in Sheffield and throughout South Yorkshire.