DECKING CLEANING AND TREATMENT
In order to keep it looking in great condition, your decking will require periodic attention. MAR Decor takes care of the whole process, from the cleaning of the decking boards to the final treatment and staining.
When decking is exposed to all the elements such as sunlight, rain, frost and so on, at best it will inevitably lead to colour detetrioration.
As with the majority of things outside, it is very important to have cleaning and treatment schedule in place to ensure the maintenance and protection of your decking.
Discolouration is the most obvious problem with decking. Any un-treated timber exposed to the elements will eventually turn to a hiddeous grey colour. This problem is alleviated by using decking oils as a protective measure from the discoulartion.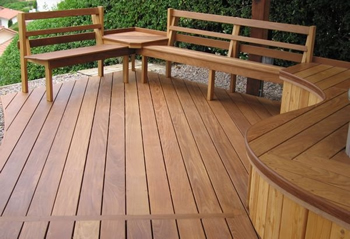 The decking timber itself loses colour because of the UV rays from the sun which react with the timber. Cleaning the decking will make it look more attractive, but will not restore any of the original colour.
The discoulouration of your decking timber will be caused by many factors, depending on the area you live along with a number of biological causes:
The degradation of decks by biological factors include fungal activity, decay, moulds and areas that are shaded algae or moss
Problems may also arise from stains by unsuitable fittings such as un-galganized screws, bolts and nails
Dust particles in the atmosphere cause dirt along with BBQ debris, overhanging tree depris and bird droppings!
There are some problems that can be prevented which are often associated with the placement of planted containers and furniture on the decks. Whilst planted containers provide a great visual asset to your decked area, it should always have a moisture-proof stand underneath. (And make sure that you do your planting and re-planting either off the deck or at least with a protective groundsheet under the area you are working)
Before we treat your decking, we always ensure that it is thoroughly cleaned using the correct cleaning solution (usally Ronseal Decking Cleaning & Reviver) and a jet washer. (The jet washer we use is smaller than 1500 psi to ensure that the wood fibres are not destroyed in the process. A jet washer that is too powerful will leave the timber with a 'wooly' finish resulting in decking that is extremely difficult, if not impossible to clean or treat.)