WALLPAPER HANGING SERVICES IN SHEFFIELD
To some, the shear thought of having to hang wallpaper can be a daunting prospect but help is at hand! MAR Decor will provide a skilled decorator to ensure you achieve your desired look to the highest specification. If it's a patterened wallpaper to complement the colour of your new or existing decor, a feature wall or simply basic lining paper to cover the blemishes and irregularities of a wall, our experienced decorators are on hand.
There are so many types of specialist wall coverings available these days. You can pick from a range of more standard paper or fabric backed wallpaper ideal for lounges and bed rooms, to a more resilient water and splash proof vinyl coverings that are well suited to bathrooms, kitchens and other domestic requirements.
Quality vinyl coverings and specialist wallpapers are applied to meet your individual requirements and we are available to help you choose the best covering for your needs.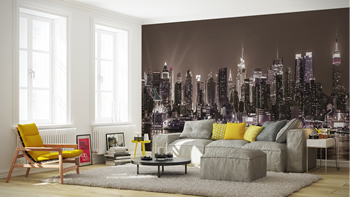 Wallpaper hanging can quite easily end up in a right sticky mess for the less experienced who have chosen to brave it out and have a go, especially when it comes to wallpapering a ceiling which is considered as one of the trickiest painting and decorating jobs! MAR Decor provides you with qualified experienced decorators who are skilled at wallpaper hanging and will have your wallpapering job finished tidily in no time at all, even complex ceiling work!
Even though the decorator is highly skilled at his job, he can only hang wallpaper and ensure that a pattern is matched up perfectly dependent on the condition of the wall itself. If the wall is out by a lot (and this can easily be seen when a spirit level does a see-saw motion rather than sit flat to the surface), then you're only hope of a patterned wallpaper matching up at every pattern is to have a plasterer come in and re-skim your wall!
If this seems like a costly option, then a money saving solution would be to buy a wallpaper which doesn't have a pattern that needs to be matched or go for a lining paper and have the decorator paint it. Whatever the condition of your walls, you can be assured your decorator will be at hand to pass on some sound advice.